Deluxe Room
Choose a Deluxe room and enjoy the stunning view over the magnificent port of Trogir and beautiful Riva promenade. All deluxe rooms are spacious with a large bathroom and big double bed for a luxurious stay. Carefully designed furniture and decor gives a sense of the Classic, Traditional and Characterful room … just for you!

Beautiful night in Trogir The location of this hotel is excellent and wishing we would have booked a water view room. The rooms are very clean and spacious, nice to have bar fridge and coffee available in the room. Front desk was very organized and check in/out very efficient.
Perfect location to explore Trogir This was our last stop on our 25th Wedding anniversary trip around Croatia. We stayed here for 2 nights before flying back from Split airport which is only 10 minutes away. This hotel is in a central location for exploring busy Trogir or picking up a boat or cruise ship. It has some great history and lots of great restaurants to choose from.The market has lots of local produce and Trogir has a great cafe culture and fab for people watching.The hotel was clean and has everything you need for your stay. We had a back room with no view but actually it was lovely and quiet so perfect for us. One thing we found was that we did have some noise from the flue for the restaurant as it went up the wall between the bathroom and bedroom, thankfully it went off around 10pm so didn't really affect us. The staff in this hotel were lovely and extremely helpful and friendly and for this alone I would visit again. The bottle of wine was a lovely surprise in our room upon arrival and really appreciated.If you are looking for a small central hotel in Trogir that isn't too expensive then look no further.
Charming hotel with excellent staff & exceptional service We had a wonderful experience at the Century Heritage. We were celebrating my birthday, a big one, and a friend recommended the hotel because it was conveniently located in front of the pier where our cruise and bike boat sailed from. We were so happy to stay here!!!!Twenty of us met in Trogir and 16 of us stayed at the hotel! They accommodated everyone and exceptionally well. No mishaps at all.We booked our res. Dec 2021 for an August 2022 stay. It's not easy to coordinate everything with such a large group but the hotel staff went above and beyond to accommodate us. We wanted to host a pre-sail dinner and they coordinated the logistics with the restaurant. Initially, it wasn't 20, but as our group grew, and the reservation changed, they took it in stride and just helped us out without any issues. We loved, loved, loved Petra at Reception. She helped each evening with last minute dinner reservations and the restaurants did not disappoint. She was so sweet and funny and just so helpful, no matter the request. You can tell that she loves what she does and that is always so welcoming when staying at a hotel. Vinka was also very helpful. On our check out day, she let all 16 of us, plus the 4 that did not stay at the hotel, store our luggage and bags until the boat was ready. She also offered to let us store them upon our return for those of us that had later flights. A few days before arriving I asked if they could help with coordinating a walking tour of Trogir. Like with all our other requests they said "of course!!". Our tour was with Daniela. Daniela was engaging and passionate of Trogir's history. It was a fun walking tour through the old town. When you visit, this is a must do. We truly had a wonderful experience and would not change a thing! Every staff member we encountered, from reception, to valet, to the cleaning staff were delightful and eager to help and were all great! They all went above and beyond to make our stay comfortable, hassle-free and fun!! Thank you for making a difference in our visit to Trogir!!
A nice place to stay I enjoyed my time here. It was clean, comfortable, and had a great location. I appreciated the person who met me in the parking lot and walked me and my bag to the front desk, as well as the front desk staff who answered all of my questions while I was there.There is no elevator but that wasn't an issue for me. The a/c was very nice to have, as well as a robe and slippers. There's no hair conditioner, so do bring your own if you use it. The breakfast wasn't superior, but it was fine. Lovely view.
Top-Lage zu dafür günstigem Preis! Sehr saubere Zimmer, freundliches Personal, Top-Lage an der Promenade und andere wundervollen Altstadt von Trogir, trotzdem ruhige Zimmer. Gutes Lokal direkt vor der Tür. Frühstücksauswahl dort etwas mau, aber gute Qualität. Ein Airport-Pickup wurde günstig und problemlos gelöst.
Love this gem of a hotel This is a special hotel, very clean and well managed, with a very professional staff incuding Matteo, Jelana, and Branka, each of whom went to particular effort to ensure that our repeat stay here was a good one. The hotel faces the waterfront Riva, and is thus within immediate walking reach of everything in the old walled city of Trogir, including restaurants, caffes, and Riva walks for people watching. There is a frig and good storage space in the armoire. AC works very well.
Poor service Clean enough and central location, but room not ready for hours after check in, leaving us to wait in 38 degree heat with children. Not competent. Not fun for us, frankly. And staff clearly didn't care.
Where is the senior staff ? Is there anti senior staff ? The hotel is a very well-located hotel with a great view on the port of Trogir. Our room on the third floor, no elevator, cas beautiful, wide, with a very comfortable king-size bed.The team of the hotel is very young ans always eager to do good… as good as they can.That was for the good part…First, it is the first time I write about a hôtel on internet…There are a few things that could, and maybe should, be much better : 1. The restaurant: there is no restaurant or catering service whatsoever un this place (a mini bar is not a catering service); the breakfasts are served in a restaurant on the place below the hotel : 40 minutes to be served on our first day there, the orange juice is not fresh juice for the clients of the hotel althought they have has a fresh orange juice machine for THEIR clients, nothing was clearly explained to us except, when we asked, that we could ordre what we wanted on the breakfast card and it was not very good, not what we expected from a good hotel (is there anyone who checks on the quality of the breakfasts ?) 2. The crew of the hotel, always very kind, is also very young and maybe not very competent when you have a question or a problem : the parking system is not simple, the hotel has a contract with the city to propose a « lower » price for their clients : 18€/day, may you spend 1 or 24 jours on the parking lot !!! It is located at 500 meters from the hotel and when you want to take your car, you need to validate your ticket at the hotel and then you have 15 minutes to reach your car. Ok. On our second day, we lost our ticket !!! (First Time in my life and it had to happen here !) We were very sorry, it was our responsibility not to lose this ticket, it should not have happened, ok. But we did ! We lost it !Well, they didn't know what to do… the very nice young receptionist really wanted to help us but d'Henry didn't know what to do except, after saying that there was no solution but to pay full tarif for the day, to tell us to go to the parking lot (500 meters), Troy to find solennel there and they to negociate with them a « new » ticket, go back to the hotel (500 meters), validate it and, if it worked, go back again to the parking lot (500 meters) and leave with our within 15 minutes, hoping the gate would open… well… That should be more simple than that and, maybe, if there had been a more experienced person somewhere near the hotel, it would have been more simple… but there was none at no time … 3. The cleaning : except for a « brownish » drain on a towel at our arrival and a tenecious semelle of kitchen in the stairs, nothing to say… oh, yes, I almost forgot, usually, in hotels, when customers leave their room for the day, someone comes in it, mâles the bed and does sole cleaning… not here… not everyday… On the first evening, when we came back to our room, it was clear that absolutely noone had come here at a time… We didn't even complain about this be cause it is not really a problem in a hotel with tools at 70,00€/night… Wait a minute… that's not what we paid for this 4stars hotel… not at all !!!In conclusion, we are very disappointed with the services un this place, very very far from what de could expect from a 4stars hotel…
Magic little place A fantastic little hotel at the Trogir Island, just by the waterside with a fantastic view. Rooms spacious, clean and a very comfortable bed!!! Personal service from the team that was well aware of each individual from my group that was staying in the hotel. Only less positive part was the breakfast service, it´s an a la carte service but they were a bit too slow and not able to get a glass of water without extra charge.
Heritage HotelTrogir Gutes Hotel inmitten von Trogir. Sehr freundlich und sauber. Durch die tolle und sehr zentrale Lage nicht so ruhig. Frühstück gibt es grad vor dem Hotel. Ausserordentlich freundlich! Sehr gute Transfers wurden organisiert.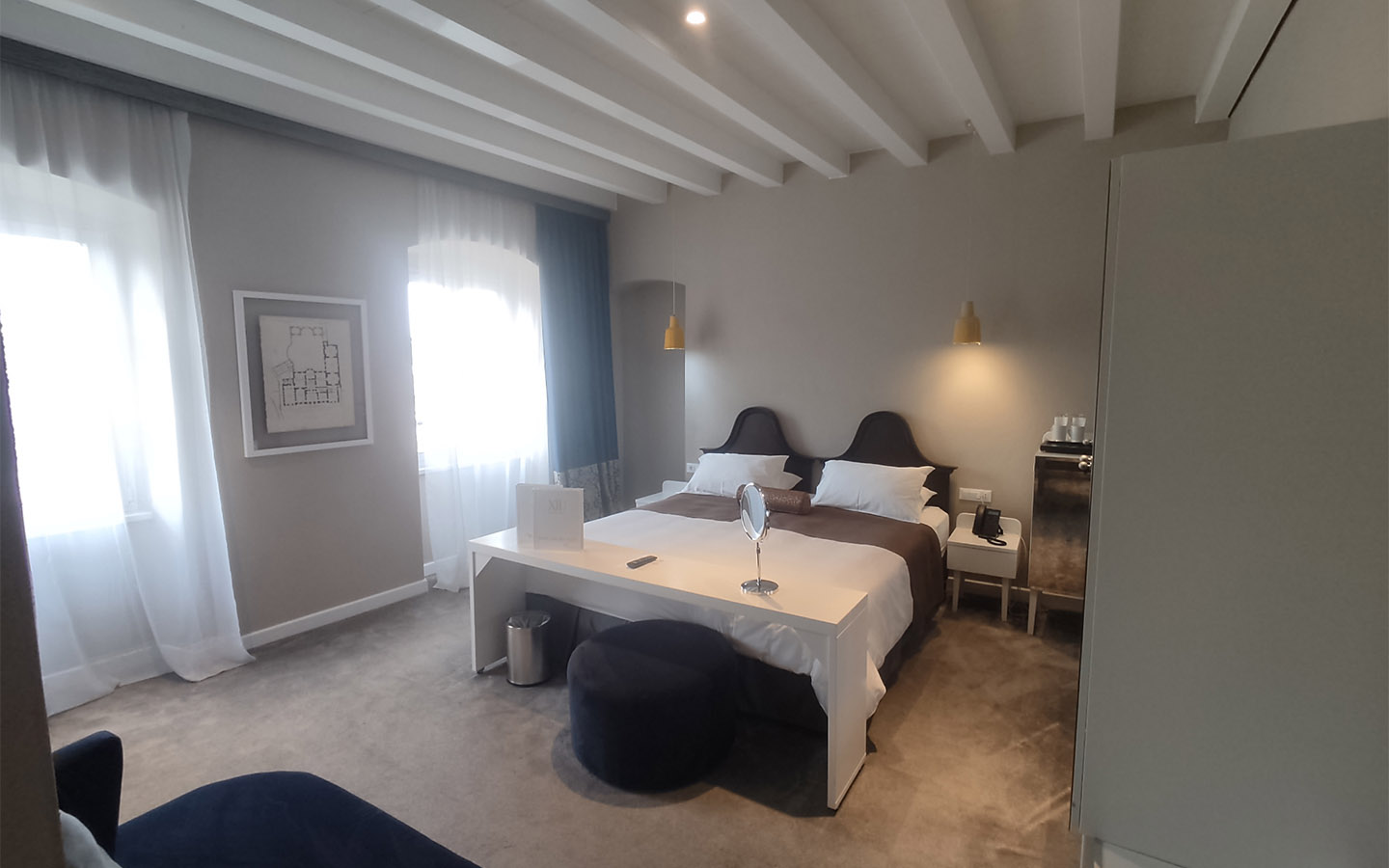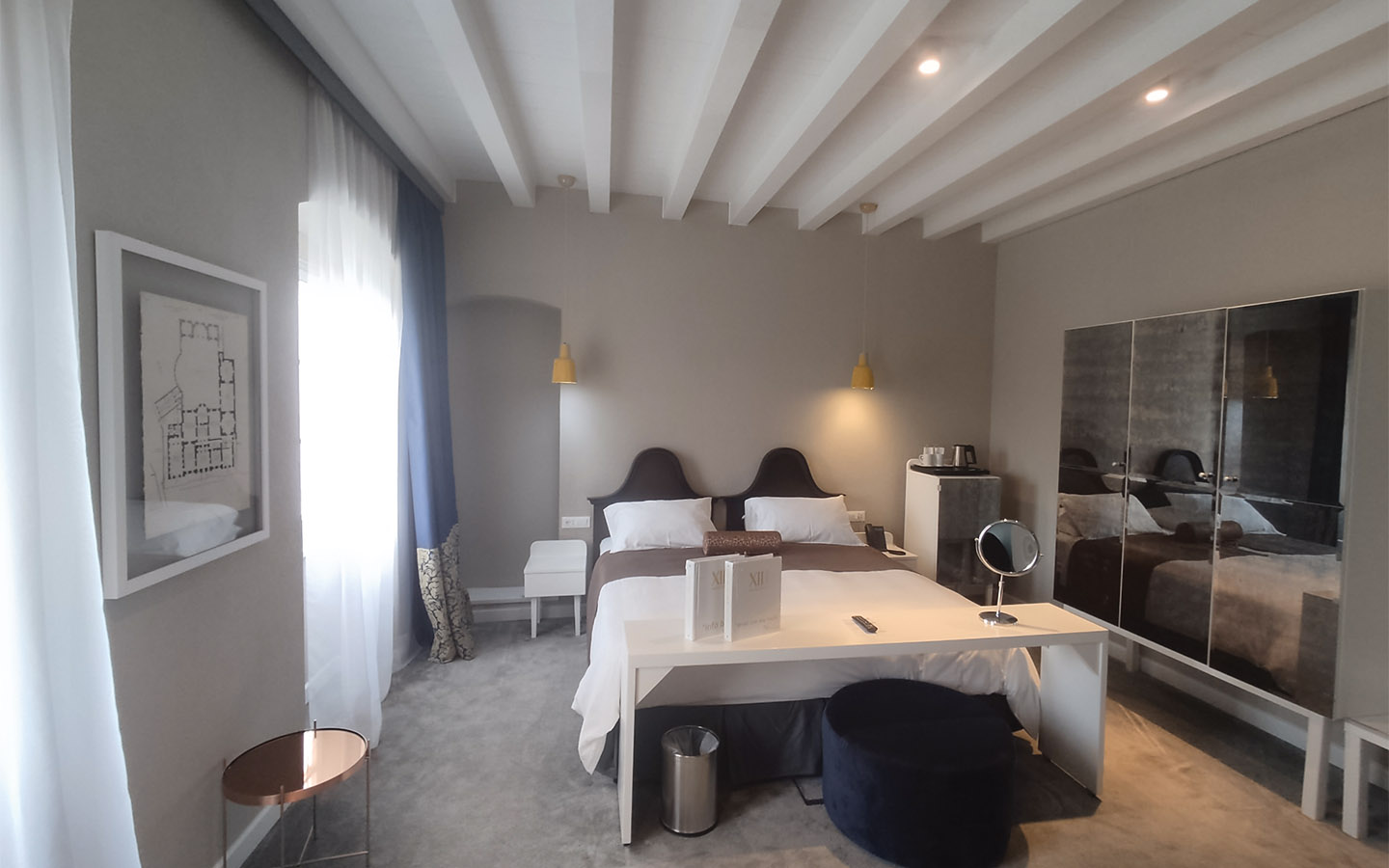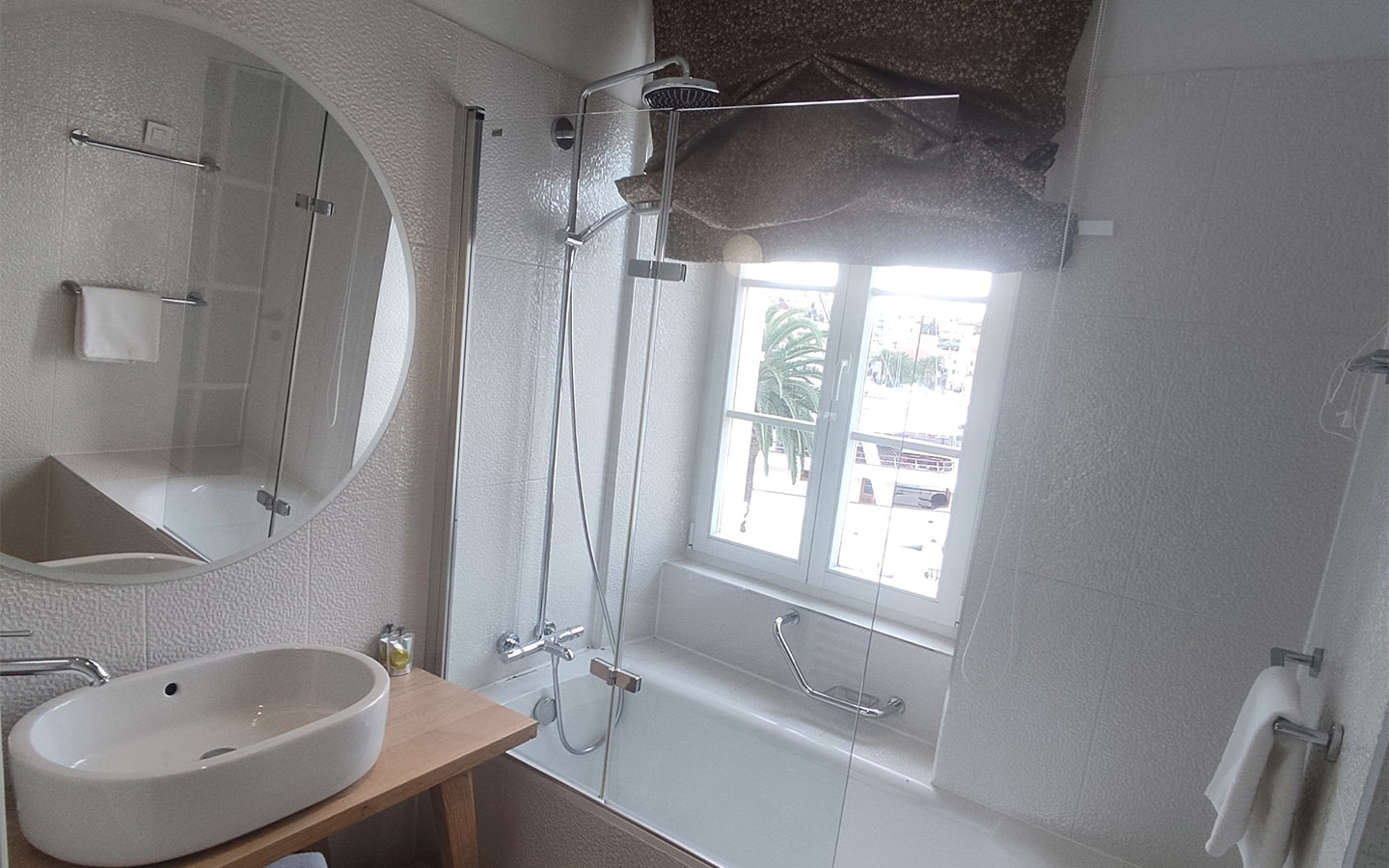 Average Rate / Night

160€ - 275€
* price depends on the period
Deluxe room
Quantity          3
Size (sqm)       30
Bed type    king size/twin
ROOM DESCRIPTION
Air conditioning
Blackout drapes/curtains
Wi-fi and wired Internet access
Modern flat screen TV 
Telephone
Safe
Minibar
Anti-allergic pillows available on request
Bathrobes and slippers
Large fluffy bath towels
Hairdryer
Iron and ironing board on request
Hotel Policies:
Check in time: 15:00
Check out time: 11:00
Cancellation policy: 
If cancelled 3 days prior to arrival till 6 PM there will be no charge. If cancelled within 3 days  arriving , 1 night will be charged. 
In case of no show, full amount of reservation will be charged.
Book now and receive a 10% discount!